Selecting an urn is a very personal choice and often includes input from several family members. Urns can be personalized and unique to your loved one, creating a treasured tribute.
When you visit our showroom you will be able to explore a wide variety of options and see the materials, color and craftsmanship in person.  This ensures you have the time to make a selection that will best suit your family.
Below are some of the most popular selections, please contact us today for a tour.
Aria Pink Rose
Full Size – $275.00
Keepsake Urn – $50.00
Heart w/stand – $95.00
Keepsake Rose Engraved – $125.00
Classic Gold
Full Size – $195.00
Keepsake – $50.00
Heart w/stand -$95.00
Classic Silver
Full Size – $195.00
Keepsake – $50.00
Heart w/stand -$95.00
Flag Memory Chest
Full Size – $250.00
Keepsake – $125.00
Flag Urn
Full Size – $250.00
Keepsake – $50.00
Grecian Crimson
(also in Pewter and Bronze)
Full Size – $275.00
Keepsake – 50.00
Heart w/Stand – $95.00
Autumn Leaves
Full Size – $395.00
Keepsake – $125.00
Heart w/Stand – $150.00
Tealight Memorial Urn – $125.00
Legacy Metallic Pink
(also in blue and silver)
Full Size – $225.00
Keepsake – $50.00
Heart w/Stand – $95.00
Tealight Memorial Urn – $100.00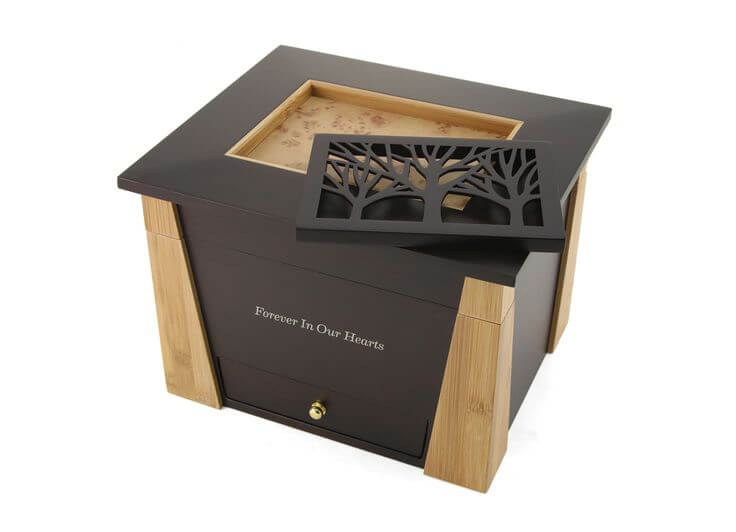 Craftsman Memory Box
$350
Includes choice of panels
Modern Urn – Includes choice of panels
Companion – $225.00
Single – $325.00
Monterey
(also in ruby and purple)
Full Size – $225.00
Keepsake – $50.00
Heart w/Stand – $95.00
Photo Box
(In Navy, White, Cherry, Natural or Black)
Full Size with Engraving – $245.00
Keepsake – $125.00
Wood Urn Box – $95.00
Radiance
Full Size – $245.00
Keepsake – $50.00
Heart w/Stand – $95.00
Scattering Urns – $125.00
Slate Flag Urn
Full Size – $250.00
Keepsake – $50.00
Heart w/Stand – $95.00
Trinity Urn (also in White and Blue)
Full Size – $225.00
Keepsake – $50.00
Heart w/Stand – $95.00